| | |
| --- | --- |
| 'Dinosaur' Crystal Uncovered | |
---
This report is an extract from
the Brisbane 'Courier Mail'
Thursday August 21 1997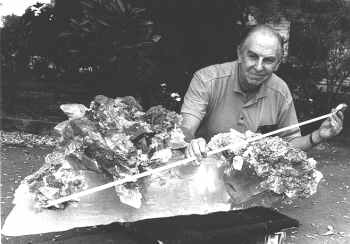 Mount Elliot is approx. 160 kms southwest of the huge Mount Isa copper lead mines and 1600 kms northwest of Brisbane. It is located in semi arid country and has been recently reworked for its rich copper deposits
Queensland miners have found a huge crystal, described as being like a 'living dinosaur'.
The gypsum crystal looks like a giant ice cube, about 1.5 metres long, 25 cm wide and deep and weighing 200 - 250 kg.
Museum of North-West Queensland curator Don McColl said the miners at the Mount Elliot Mine, south of Cloncurry, discovered the crystal while looking for copper.
"We reckon we're looking at millions of years of weathering, slow crystallisation of the mine water," he said. "It's like finding a living dinosaur. Its as rare as that because a crystal like this has been there for so long."
Mr McColl said he believed it would be the biggest crystal on display in an Australian Museum and would become a "significant tourist attraction in its own right".
He praised the miners who saved the crystal from damage in the mine.
"We dragged it back sandwiched between old mattresses in a trailer and we had to get four or five people to help get it off the trailer'' he said. "Since early this century, in the days of the mining pioneer William Corbould, it has been known that the Mount Elliot orebody contains occasional caverns with rare, huge crystals. Now, finally, one has turned up.
For more information on the Mount Elliot mine and its history and minerals follow these links:

News and Articles Index


Home Page
---